I'm a reader. Seriously, it's an obsession.
I always have at least 5 or 6 books going at once.  It's like fine dining. Sci fi fantasy pairs well with a historical biography, a side of writing wisdom and a predictably shallow, inspirational business book for garnish.
The answer to "Guess how much I love you" in our house?  
"More than all the letters in all the books in all the world."
The library scene in Beauty & the Beast pretty much makes me want to crawl into the TV.  I even have a Pinterest board that's all about the beauty of books.  Suffice to say, I love books.
You'd think, if you asked me to name a favorite book, I'd be hard pressed to choose just one.  But you'd be wrong.
There is one book that inspires me and pushes me and chokes me up every time I read it.  It's a business book that isn't a business book. A children's book that isn't a children's book.
In my not-very-humble opinion, everyone should have this book in their home. And everyone should read it at least once a month.
Seriously. Read it. Monthly.
So what is this magical book then?
Oh, the Places You'll Go! by Dr. Seuss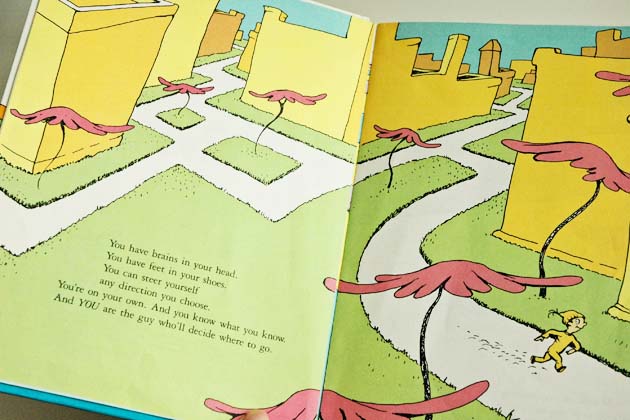 You have brains in your head. You have feet in your shoes.
If you've followed me for a while online, you probably already know how much I love this book.  I've loved it for as long as I can remember, but it had been years….possibly more than a decade….since I'd thought of it. At least until a couple years ago.
At that point in my life I was struggling to make my business location independent. I wanted to take my successful local advising business online so we could move across the continent and be free to travel as we unschool & roadschool my youngest girls.
I'd been swimming in a sea of overwhelm for months. When you're starting an online business the learning curve is ridiculous.  Even when you know you're great at what you do, the endless i'm-totally-not-getting-it BS can make you doubt yourself and your path.  Compound that doubt with any where from 15 to 150 online "experts" telling you 15 to 150 conflicting rules-that-must-never-be-broken.
Little did I know….
So… that's pretty much what I was swimming in when Naomi Dunford posted a recording of herself on her IttyBiz blog reading, "Oh, the Places You'll Go" to her son.  (Sadly, the recording is down now, so I can't link to it.)
Just from seeing the title on the screen in her post, the memory and significance of this book shot through me like a bolt of lightning. It felt like what I'd image being in the Matrix and having jujitsu downloaded into your brain would feel like.
Then I listened. And cried. And downloaded it to my mp3 player. And played it on a loop for days. And drove to the used bookstore and bought their last two copies of the book with my last few dollars.
I read it to myself. I read it to my girls. I read it to my teenage daughter. I read it at a women's networking luncheon.
It's opener there, in the wide open air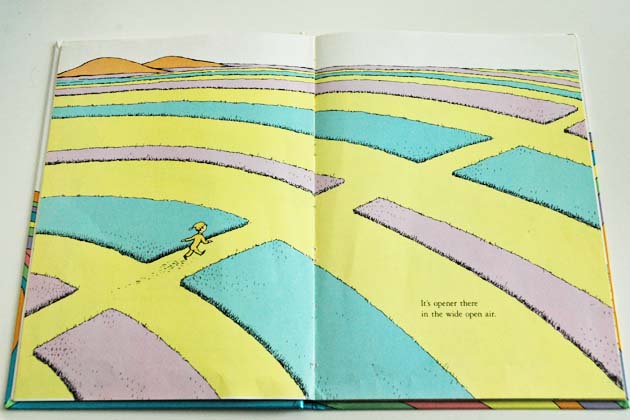 This book will give you new, adventure-seeking eyes with which to see your world.
Yes, it's a damn scary place. Yep, you're on your own….pretty much.  The book doesn't sugar-coat the bad things you're sure to encounter while you're out there exploring.
Instead, it points out how rich and full and totally-worth-it-all the good things can be.
They come as a set: the good and the bad. The book also reminds us that bad stuff comes at us in waves and cycles and no one is immune to them and that's okay.
That's the way this beautiful life unfolds.
It's the source of confidence, resolve and wisdom.
You're smart and brave and capable and ready to take on the world.
So….get on your way.
My passion was renewed. Me fears were acknowledged. My path was clear.
These are the concepts and ideas I wanted to infect the planet with!
I wanted to show people the power and peace and excitement of living a truly self-determined life of your own making.
This book blazed the path that led me to create BrainyFeet.com….which was to be my heart's home online for the next two years.
BrainyFeet was the imperfect seed that has grown and evolved to become what you see here on LarahRitchie.com.  And it will, no doubt continue to evolve and change.
That organic evolutionary process is how revolutions take hold. 
Out there things can happen & frequently do, to people as brainy and footsy as you!
There will be dark places and high flyers and waiting places and boom bands along the way. I'm ready for all of them. I want you to be ready too. 
Which is why I'm giving away a copy of this book during the LarahRitchie.com Launch Party on Thursday, July 26.  You can read more about the party here.
There are a handful of ways to enter to win the book:
Comment on this post with a story about how this book resonates with you or tell us about a book that changed the course of your life.
Write a post on your own blog about how this book resonates with you or tell us about a book that changed the course of your life. Be sure to come back here with a link to your post.
Share this post on Facebook. Include my Facebook page, @Larah Ritchie in your post so I won't miss it.
Tweet this post. Include @LarahRitchie in your tweet so I see your mention.
Pin the image to the right. Add @LarahRitchie to the description so I won't miss your entry.
And then there's this…
I invite you to take 10 minutes from your day to watch this inspiring, lump-in-the-throat creating video as the amazingly beautiful people at Burning Man share the pure magic of Oh, the Places You'll Go!